Artist applications for 2019 now closed!
Only short-listed candidates will be contacted for our 2019 selection.
In his first work performed in Austria, the Brazilian artist Eduardo Kobra will use his style and his colors to celebrate two of his main inspirations, two great Austrian painters.Kobra decided to reinterpret the famous photograph of Klimt with his cat, Katze. With an interesting detail: they will be standing on the roofs of Schiele's famous Krumau - Crescent of Houses (The Small City V).
You can easily recognise the work of Zësar. His expressive colors and the depiction of his unique characters make him an outstanding representative of the Spanish street art scene. He designs various imagery for T-Shirt collections and limited screenprint editions and works on exhibitions. Oscillating between Uruguay and Spain and travels often too participate at Festivals. In his wall at Ludwig Hirsch Park he paints an homage to Gustav Klimt and Egon Schiele depicting two figures simulating schiele himself and one of Klimt´s muses. Next to them Zesar puts a guitar referring to late Hirsch, who was a famous Austrian musician. The wall shows typography saying Im Werd referring to he ancient name of the district.
This year's Calle Libre theme being CINCO (five), and having just read Elizabeth Kolbert's The Sixth Extinction a few months ago, Saddo decided to illustrate the so called Big Five, the main mass extinctions in Earth's history, through one representative species that found their demise in each of the five events.
He implements sea creatures, the trilobites, the tabulate corals, conodonts and dinosaurs.
Jacoba Niepoort's mural is a tribute to the creative process, as well as to the work and inspiration of previous master artists from Vienna. It portrays a woman, overturning rocks, searching for her long lost 'sons' of creativity at the bottom of a river. The image is inspired by an old folklore tale (La Llorona) among which one interpretation is the searching for creativity in a river (or soul/body) blocked or muddied by life's constant internal and external challenges and distractions. One could see the search as part of the never-ending cycle of the creative process. The backdrop to the mural is Koloman Mosers artwork, an artist whom, among others from the Vienna Secession, died 100 years ago.
The idea for the piece that was created in Vienna came out from a proposal of the festival's organizers, who suggested the possibility of respecting the graffiti that were already painted on the wall. For this reason, Medianeras decided to interpret the message of the graffiti artists. The idea was to paint the tags and graffitis on a body with outstretched arms, like tattoos over this painted body. This mural will represent the idea that graffiti is like the skin of cities. The artist chose the challenge of incorporating existing graffiti respecting this urban community. In the middle of the wall we see two fingers which could be interpreted as a reference to the world famous "the creation of Adam" fresco painting by Michelangelo in the sistine chapel. Unfortunately one of the artist broke her finger while finishing the mural.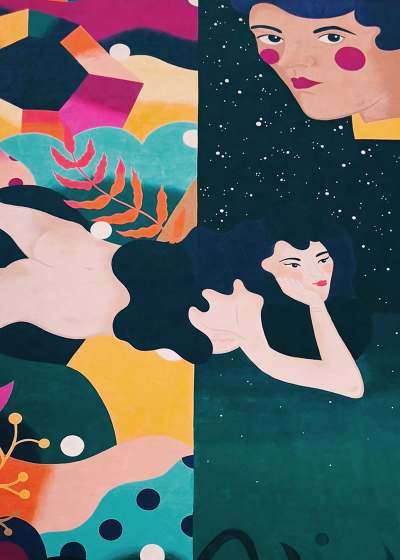 The Portuguese artist paints a homage to one of Austrias most notorious figures in art history: Egon Schiele. In her colorful interpretation of Egon Schiele´s painting "Am Bauch liegender weiblicher Akt" from 1917 she also adds a Self Portrait of the painter in the right corner on the top of the wall. While the left half shows colorful abstract elements that resemble floral patterns and plants, the right half of the wall shows a dark horizon sprinkled with distant stars.
Jose's art is a series of interventions on the street with stencil and mirrors. The idea of these pieces is to interact with the viewer using simple and direct phrases and including their reflection in the composition. Jose Urteaga uses the pseudonym of NAF in the urban interventions he has been doing for more than 15 years in different cities around the world.
Edwards personas appear all over Europe´s major cities. His stencil-made black and white pieces that he paints in Vienna can be transformed to moving images by using an Augmented Reality App. Watching the wall through your smartphone shows you mysterious Estonian personalities who can be awaken to life. His charakters appeared on various spot throughout the city. They try to establish a new concept which allows you to use digital technology with the artwork in the streets.
Akuma Santos (BRA) was one of the first "Graffiteros" in Rio de Janeiro. He often shows figurative symbols which show a political or socio-cultural narrative. Stemming from Rio´s suburb Niteroi he critically examines socio-political thoughts in his colorful and often photorealistic murals. He concentrates not only on painting with spray cans and brushes but has also a strong sculpture influenced approach in his Ouvre.
Austrian artist Skirl (AUT) draws most of his work almost exclusively in lines. He has been active in the Austrian Street Art and graffiti scene for years now and works together with different international and national collaborators. In 2016 he co-founded an art collective and gallery space called "Oxymoron" where they regularly host exhibitions and presentations. Situated next to local color store Somogyi this is the perfect combination.
If you look at Rodrigo Branco´s (BRA) portfolio you can tell his rich and colorful concepts are heavily influenced by social conditions and imaginary childhood dreams. He works and lives in Sao Paolo but often travels the world to paint murals or exhibit in other countries. The determined motive in his works is the portrayal. His expressive faces often placed on colorful backgrounds give you a surprising view on human beings. His unusual depiction of the human face lets us rethink the perception of ourselves.
Chinagirl Tile (AUT) likes to touch political and feminist topics with her work. Working exclusively with tile her artwork must be prepared days in advance and include a three-dimensional aspect to her application on different surfaces. At Calle Libre she collaborated with German artist Loomit and created several drones that were equipped with grenades and bombs, ironically referring to questions of surveillance, war and peoples insecurities.
Greek Artist Wake (GRC) speaks about his experience in his home country within his colorful illustrations. He tries to remember actual stories and carries them out to the exact point of telling them in his distinctive way.